/

10 things to do with children in Sirmione and its surroundings
10 things to do with children in Sirmione and its surroundings
A holiday in Sirmione and on Lake Garda is an excellent opportunity to spend time with your children and to take them to discover new places and experiences, which they will remember for a long time and look forward to telling their friends and school about.
If you are in search of ideas for wonderful family days out, or you are looking for ideas to fill their time with interesting and fun activities, we have prepared a list of 10 things to do with children in Sirmione and the surrounding area.
1. A legendary trip from the Scaligero Castle to the Grottoes of Catullus
A fairy-tale atmosphere: that's what the Scaligero Castle provides when it welcomes you to Sirmione, and your children will immediately feel it too!
Built in the fourteenth century, the castle can be visited in its entirety: you can explore its harbour, its towers, its long corridors and possibly even come face to face with the ghost of Ebengardo, the noble lord of the castle who, according to legend, killed his enemy Elaberto within its walls.
The other stop that parents and children will find fascinating are the Grottoes of Catullus, the remains of an ancient Roman villa built on the tip of the Sirmione peninsula overlooking the lake: according to folklore, they were once the residence of the romantic Roman poet Catullus.
2. Trampolining on Lido Galeazzi beach and eating huge ice-creams
Galeazzi beach in Sirmione provides you and your children with the opportunity to enjoy trampolining on the lakefront, here you can compete with each other in complete safety to find out who can do the most impressive jumps.
There is also a ping pong table, a table-football game and volley ball nets that provide many hours of fun.
Has too much sport made you hungry? Then you need a really big ice cream!
In the historic town centre of Sirmione ice-cream parlours compete to amaze you with their delicious home-made ice-cream cones, with incredible flavours that can satisfy everyone's tastes and needs.
3. Gardaland: a fun day out for both children and adults
A truly enchanted world: Gardaland is one of the most famous amusement parks in the world and is an experience that everyone, adults and children alike, should enjoy at least once in their lives!
Children and teenagers can try out all kinds of attractions, dedicated to all ages and heights, always in maximum safety, including rides, games, themed areas and all kinds of theatre shows.
This amusement park in Castelnuovo del Garda also includes Europe's first Lego-themed water park (Legoland Water Park) and is updated each year to offer many new surprising features.
4. Little papermakers at the Toscolano Paper Museum
Leave the Gardesana Occidentale road in Toscolano Maderno and proceed by car and then on foot for a beautiful walk along the hidden and fascinating Valle delle Cartiere (paper mill valley), where you will find the Paper Museum.
This cultural centre was built on the site of an ancient 15th-century paper mill and has an exhibition space that explores the history of the paper making trade that was once practised in this area. It also offers guided tours and manual workshops for children, who can try their hand at papermaking.
5. A visit to the hydroelectric power station in Riva del Garda
The Hydroelectric Power Station in Riva del Garda is a monumental building built in the 1920s directly on the shores of Lake Garda.  It was designed by the architect Maroni, who was in the process of renovating the Vittoriale degli Italiani in Gardone, and is still used today to produce clean energy from the lake water.
The Hydroelectric Power Station is also a place to discover all the interesting aspects of this subject. With safety helmets on their heads, children and adults can explore the complex and gigantic machinery inside the plant and enjoy an interactive experience thanks to the many multimedia installations.
6. Enjoying nature in the Adventure Parks
An open-air adventure, in a natural space equipped with nature trails: this is what you can enjoy with your children in the various Adventure Parks around Lake Garda.
Equipped with harnesses and in complete safety, crossing rope bridges and suspended paths: are your children brave enough to face the challenges of these open air missions among the trees in the woods?
There are many parks in the area for you to try out including the La Quiete Adventure Park in Lonato, Rimbalzello Adventure Park in Barbarano di Salò, Jungle Adventure Park in San Zeno di Montagna and the Busatte Adventure Park in Torbole sul Garda.
7. The mysterious maze at Parco Sigurtà
Sigurtà Gardens and park can be found in Valeggio sul Mincio, in the moraine hills of Lake Garda. It is a monumental  area of natural beauty that is open to the public from spring through to autumn.
Its many attractions include a maze, which children fall in love with: a rectangular area of 2500 square metres formed by rows of yew trees that bring to mind the mazes and labyrinths of long ago.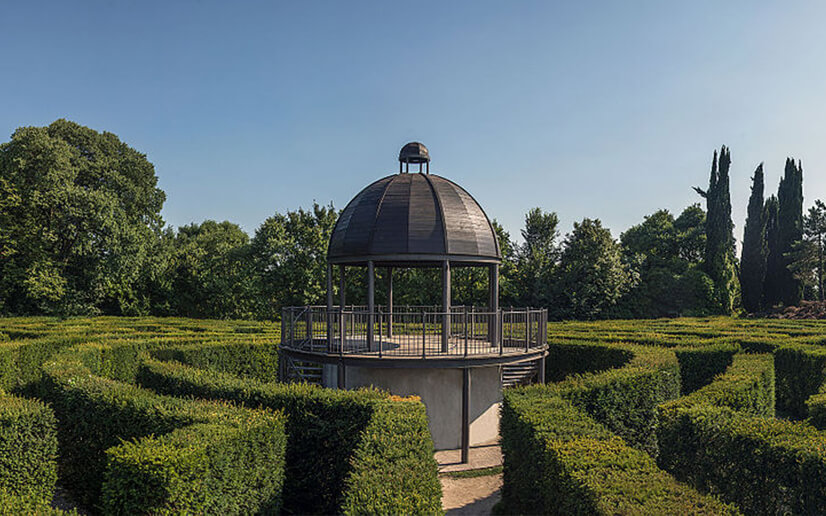 Children can enjoy finding ways to reach the centre, where they are awarded with a climb to the top of a magnificent tower, inspired by the one in the Bois de Boulogne park in Paris, from which they can admire the whole area in all its geometry from above.
8. Boat trips from the port of Sirmione
A boat trip is always an exciting experience for children and adults alike, but a boat trip around Sirmione is an extra treat.
With its long peninsula emerging from the lake water, which almost completely surrounds it, Sirmione is a unique place that can be visited and admired in all its splendour from a boat.
Start from the port, where the rippling waves and scenery will make your heart beat a little faster and the Scaligero Castle cloaks the whole town in charm and mystery.
Gradually motor around the tip of Sirmione, where the ruins of a Roman villa appears from the vegetation, and try to identify, among the greenery and monuments, a villa or place of interest that you recognise, all the while enjoying the sunshine, cool lake breezes and the sense of adventure that the boat trip provides.
9. Giocabosco, a world of gnomes and fairies
A long time ago, gnomes and fairies fled from the woods and forests to Lake Garda and settled in Gavardo, where the Giocabosco can be found today.
This park is dedicated to children and was created to help them discover nature in a correct and respectful way. It offers a completely safe woodland area where they can look for plants and animals, psychomotor routes, play areas equipped with playhouses, swings, slides and tree houses, a fenced-in play area for children aged 0-3, a mini-museum and picnic areas.  Above all Giocabosco offers children the chance to go on a "mission" that is handed to them on their arrival and to experience an exciting adventure with their families.
10. Exciting views and discoveries from  the Monte Baldo Cable Car
The panoramic cable car that leaves from Malcesine's historic town centre is an amazing way to climb Mount Baldo with children: it can be directly reached from Sirmione by car or by boat.
The ascent offers extraordinary panoramas of the mountains in the province of Verona and all of Lake Garda: both children and adults alike will be amazed at the views.
At the top you can take long or short walks, study the sky from the astronomical observatory near the Novezzina mountain lodge or visit the Monte Baldo Botanical Garden in Ferrara di Monte Baldo, to find out about all the incredible plant species that have given this area the name  "the Garden of Europe".
The map
The following list of 10 things to do with children in Sirmione and its surrounding area provides many ideas for spending a holiday on Lake Garda with your children.
You can also find our suggestions on the following map.